---
Offpoint Request to Correct 1993 SPARTAN Images
Image name: spartan93_offpoint.png (click image to enlarge)
Image size: 182.673 KB (512x512)
Date submitted: 03-Dec-1994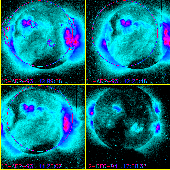 Description:


                              YOHKOH SXT FAX
                Institute of Space and Astronautical Science
                        3-1-1 Yoshinodai, Sagamihara
                          Kanagawa Prefecture 229
                                    Japan

Phone:  0427-69-4531
Fax:    0427-69-4532
___________________________

To:     Yohkoh Tohbans at SSOC 					Page 1 of 1
	Hara, Watanabe, Kosugi
Fax#    59-4240 (B-tou), 0994-67-4009 (KSC)
From:   SXT Chief Observer: L. Acton
Date:   3 December, 13:15 JST
Subj:   New offpoint OG.

Hello,

In order obtain terminator images for correction of the 11-12 April 1993
Spartan observations we require new OG commands to duplicate the
pointing at that time.

         Spartan '93 Terminator Offpoints

	"EAST"		East  6.09 arcmin
			North 1.83 arcmin

	"WEST"		West  3.15 arcmin
			North 1.75 arcmin

I recognize that it may not be possible to achieve such offpoint
precision but I've given the full accuracy in the numbers which have
been derived by comparing the suncenter locations of the following 
images

	11-Apr-93 12:26:46	Spartan east offpoint
	12-Apr-93 11:26:07	Spartan west offpoing
	 2-Dec-94 17:28:32	Present Yohkoh pointing

Thank you for your help in preparing the OG commands and in
securing these important terminator images.




To the YLA Guide
front page with side-frame